For the rest of the winter, we are getting ready to launch a 2024 program.  The stable block is undergoing complete renovations and the house with its 1st floor upgrades.  We will post more soon as things continue to develop.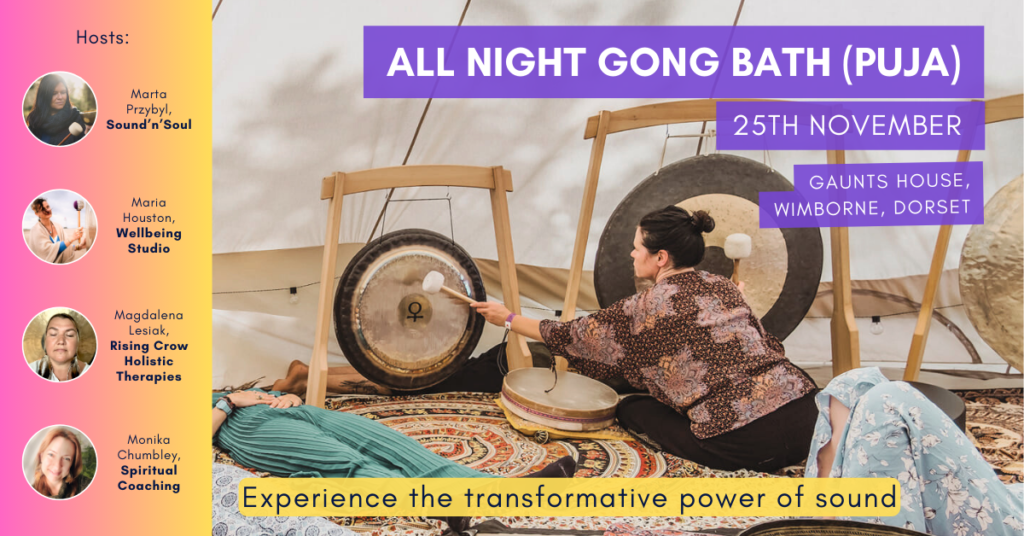 Event: All Night Gong Bath (Puja) Time: 25th November, 8pm-9amLocation: The Theatre, Gaunts House, Wimborne
Experience the transformative power of sound at our All Night Gong Puja Event on Saturday, the 25th of November.
The sound of the gong is believed to have a transformative effect on the mind and body, inducing a state of deep relaxation and heightened awareness. The constant sound of a gong can help quiet the mind, making it easier for people to enter a meditative state. By focusing on the sound of the gong, people can deepen their meditation practice and cultivate a greater sense of mindfulness, leading to increased spiritual awareness and connection.
All-night gong sessions can improve self-awareness and introspection. The sound of a gong can act like a mirror, reflecting an individual's internal state. As sound travels through the body, people can become more aware of their physical sensations, emotions and thoughts. This increased awareness can help promote self-reflection and introspection, enabling people to gain a deeper understanding of themselves and their spiritual journey.
More information and tickets available here: https://monikachumbley.com/product/all-night-gong-puja/
We hope to see you there
Your hosts: Marta, Magdalena, Maria, and Monika