Office Hours Open Monday Friday 9-3pm
We will endeavour to get back to you as soon as we can.
Gaunts House, Wimborne, Dorset.
Use satnav BH21 4JD, (not Q), and come by B3078.  Turn in at the mushroom cottage (Alice Lodge).  There's a long, straight-ish, bumpy drive.  Park by front door.  The door will be open.
Or, come in by back-drive via the Bothy – Satnav: BH21 4JQ – and drive past the large red-brick Stables and Courtyard on your right, on another 300 yards just past the Avalon Cottage on your left and Courtyard there, and round to the Front Door, and park there.  The door will be open. 
By Air:  London Heathrow or Gatwick, Bristol, Exeter, Southampton or Bournemouth. By Train: London Waterloo, Bristol Temple Meads to Bournemouth or Poole. Then by Coach: London Victoria and Hammersmith and most cities to Bournemouth or Poole. By Bus: 13 from Bournemouth or 3 from Poole to Wimborne.
Car Share:  Life's a journey – share it! We ask you all to consider your environment and the effect your travel has on it.  Have you thought of car sharing? https://gocarshare.com/   http://www.freewheelers.co.uk/
By Train:  Our closest rail station is Poole but there are also travel options from Southampton and Salisbury.
By Coach:  The site's remoteness is part of what it makes it so special, but it does mean that some planning is required if arriving by public transport.  From All Airports there is a Coach service to Poole https://www.nationalexpress.com/en/offers/cheap-coach-tickets
By Bus Travelling Via Salisbury:  BUS 20 SALISBURY-BLANDFORD FORUM:  Ask the driver to drop you at the Handley Cross roundabout.  The bus leaves Salisbury (Endless Street, stop D) at: 08:40, 13:10, 16:10, 17:50. Monday to Saturday, 25 minute journey, no service Sundays.Timetable here   https://bustimes.org/services/20-blandford-forum-salisbury
Via Poole:  BUS NUMBER 4, STAND E  POOLE – WIMBORNE. Bus Number 4 leaving from stand E in Poole bus station and run's every 30 minutes to Wimborne. https://bustimes.org/services/4-poole-broadstone-merley-wimborne
Local Taxi: Local Taxis: 01202 888888/884444 (approx. £25 from Bournemouth, £22.50 from Poole and £8 from Wimborne)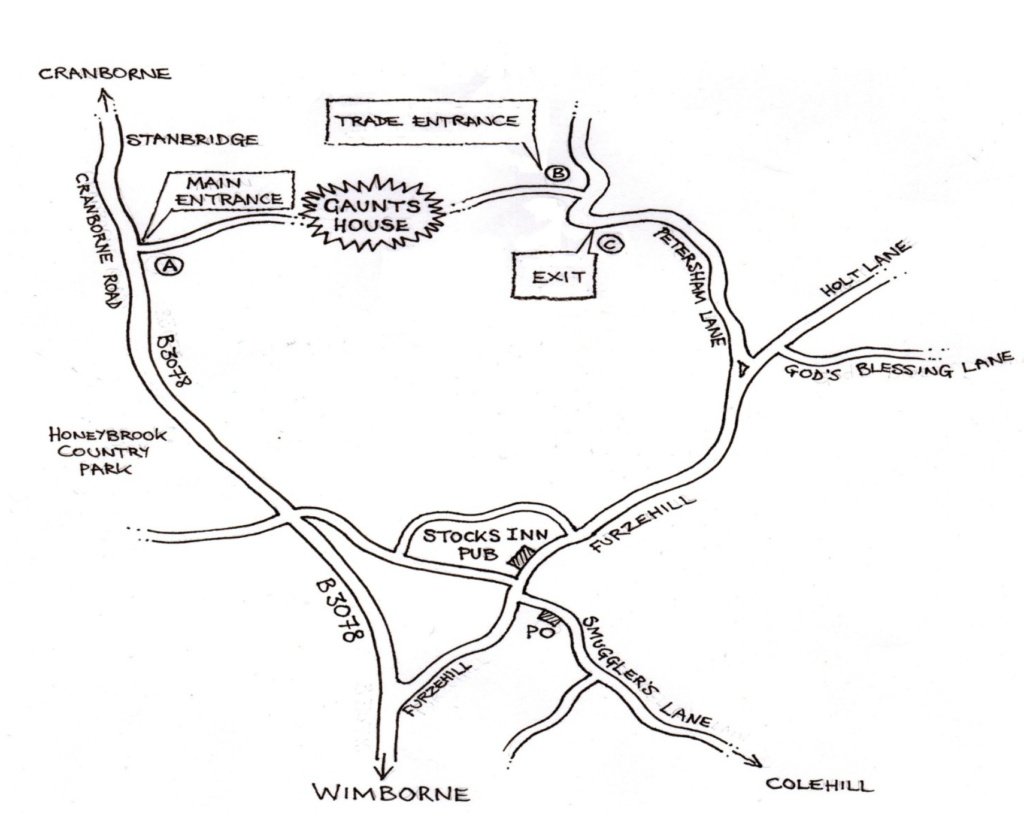 If you would like to receive news, updates and information on retreats, courses and events please subscribe below to our e-mail list.  
Easy way to Subscribe (QR)
We have given you tick options so can you can refine what you'd like to receive from us.  Simply fill in the form below.